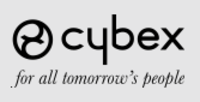 CYBEX offers car seats, baby carriers and strollers that are not only safe but perfectly adapt to urban lifestyles.

At the core of the brand and its product developments stands the CYBEX S.D.F. Innovation Principle: the combination of unsurpassed Safety and quality, unique Design and intelligent Functionality. This three-pronged strategy has led not only to the development of award-winning pioneering car seats like the rear-facing Sirona but also to no less than seven Red Dot Design Awards.

Always questioning the status quo and not afraid of challenging the establishment, CYBEX has become not just a leader in child safety but is seen as an innovative lifestyle and fashion brand. With its fresh approach, CYBEX designs products for parents while pushing the boundaries that often separate safety, design and function.